Case Study – Daniel Swann's Lobster Pod
Before we got the Lobster Pod we were using a home-made set up consisting of a storage tank, air filters, and a garden pond pump with box filter (not ideal!).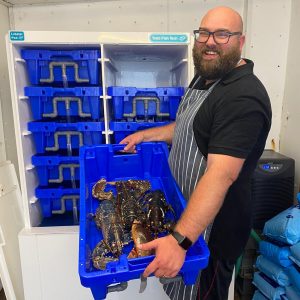 Working with this set up posed many challenges, including mainly struggling with trying to get the stock out easily. As the lobsters were all in the same tank it would quite often become a game of netting the whole tank to find a fish the correct size required, and when you have a customer stood over your shoulder trying to decide what size they want, this would quite often be quite time consuming. Especially as the tank was black and the lobsters blended in to the colour. Luckily we have access to fresh sea water and so were able to do regular large water changes to avoid any large mortalities, however this approach was not infallible.
After reviewing the available options on the market, we opted for a turnkey solution rather than having a specific custom build, as we only required a small system. When reviewing the turnkey market we found that the other solutions did not seem robust enough to deal with the quantity of fish they claimed to hold, especially given that they did not appear to have large enough filters to deal with the biological load. We found that Errin was very personable, knowledgeable and helpful with any queries we had, and was even willing to provide us with a lot of information on the operations of the system and keeping of livestock before we had even placed our order. She gave us the time to research how it works and find out the pros and cons of the system and was not a pushy sales person.
Since putting the Lobster Pod in place, with the exception of one incident of overstocking during the filter maturation stage, the system has been working perfectly for us.
Our mortality rates have dropped through the floor to around 0.5% at a guess. The vertical stacking solution has meant that we are able to keep a larger volumes of stock in the same area that we previously had before, and the tray system means that we are able to grade the livestock when loading them into the system and the days of fishing around with a net are long gone! We are selling more lobster than we have before and have been able to expand our offerings to lobster rolls throughout the summer and adding lobster with garlic butter to our takeaway hot food menu too.
We hold predominantly lobsters, however we have also held a small amount of live brown crab in the bottom trays at the same time as the lobster. We are also planning on trialling a small volume of live Lango's in the top trays to see how these sell. By being able to hold them live we can then provide them in smaller quantities to our customers over a longer period of time.
Since having the Lobster Pod system it had helped free up a lot of time, not only in getting the stock out of the system, but in maintenance as well, as we are not having to undertake water changes as often as we had to before, nor in as larger volumes. The lobsters are also cooking up much better now, because they are getting the opportunity to rest in optimal conditions for a while before being cooked, which has resulted in a much better end product.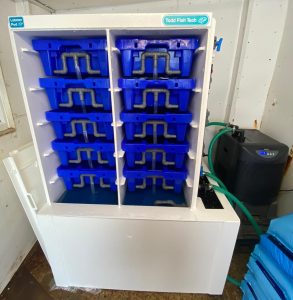 Setting the Lobster Pod up was exceptionally easy, Errin and Keith were both on hand to answer any questions we had at the time, and the live filter block they provided was an added bonus to get the system started quicker. The only thing I would say is that it would be useful to add a max fill line on the tank, as it can seem as though the system is running low by the time the trays are full of water, but if you fill the sump as well as the trays, when you empty all of the trays you will soon get wet feet! (Editor's note – thanks for the tip Daniel!  We'll add this to future Lobster Pods.  We welcome feedback like this to continue to innovate and improve our products.)
When maturing the filter patience is key! When you are waiting for the filters to mature, do not be tempted to sneak a bit of extra stock in as my colleague who does not understand the mechanics of biofilters found out. If you put too much in before the good bacteria colonies are formed to an adequate level, even if you take the stock out of the system it will be too late as they would have dumped the ammonia in their system and this will still be in the water. This put us back a week or so, but once the filters were mature they have coped very well with each of our weekly stockings. We also experienced some large PH drops but this was nothing that some bicarbonate of soda was not able to help with!
We are currently using dip tests to monitor the ammonia, nitrite, nitrate and pH levels. A refractometer to measure salinity and the visual display on the chiller to measure the water temperature. As we are stocking on a regular basis we are performing small water changes on a monthly basis to keep on top of the nitrate levels. To make life easier it would be useful to have a drain tap (although I appreciate that this would be an area that may be prone to failure over time), however with the quick release connections for the chiller we are then able to use the return pipe to take the water away from the system. Also, the wooden air block in the skimmer we have found requires the occasional clean, especially if you are keeping brown crab.
We had a challenge with overstocking during the maturation phase. Keith however was available at the end of the phone and was very helpful and patient with us, talking through what had happened and what we needed to do to resolve the issue.
The main thing that we have found on our system which could have been improved on our system was the quick release connectors for the chiller. The pipes provided were much too large to fit on to these and so we had to use jubilee clips to keep these in place (Editors note – we've now added this as standard, thanks for the feedback Daniel).  Other than that, the system just works, which is what we needed.
If anyone is thinking of getting a lobster tank I would advise they talk to Errin and Keith, they are both so knowledgeable and if one cannot answer your question the other most certainly will be able to.  If you need a system and are on the fence about what system to buy, this is the best turnkey system in the UK market. Although these fish are kept and will ultimately be cooked and eaten, they still deserve to be kept in the best conditions that can be provided beforehand.
Todd Fish Tech's customer service and advice was absolutely amazing, I know we keep saying this but nothing was too much trouble for Errin and Keith. Even our silly questions, but having these answered put us at ease. The advice was top notch and Errin is such a pleasure to talk to. From talking to the two of them, we found out that they have so much experience in this area and not just in the Lobster Pod.
We would buy again from Todd Fish Tech 100%, 10 out of 10, we would definitely recommend them! We have been showing everyone our system and anyone who will listen we have been preaching about it to.
By Daniel Swann, The Netshop, Hastings